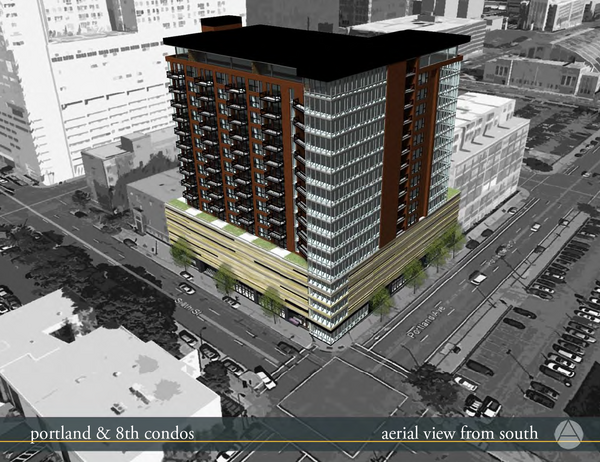 Rendered drawing of the Portland Tower, a 17-story mixed-use building (retail and condos) in downtown Minneapolis, near the site of the Minnesota Vikings stadium, Wells Fargo headquarters, and "commons" park, all of which are currently under construction. The Portland site broke ground yesterday in a public ceremony, and is expected to be completed by Summer 2016.
Slowly but surely, the open sea of empty parking lots are being filled in, and the old city of Minneapolis returns to life. Like so many American cities, it was crippled by post-WWII suburban sprawl, urban renewal, and our obsession with cars. A booming economy and young Millennial Generation are fueling an urban renaissance.
Now if we could do something about the eight miles of hamster tubes ("Skyway") that keep people hidden inside of buildings and away from the streets.